In 2015, Sylvester had the opportunity to serve as a member of GlobalGiving's Leadership Council.  
About the Leadership Council: The Council acts as an ad hoc advisory committee, providing regular feedback and engaging in discussions about new features on the site and ideas for future campaigns via the Leadership Council Facebook Group and email.
Members may also receive specific questions or requests from GlobalGiving staff relevant to their country or area or expertise. For example, if you are selected, you may receive infrequent requests for feedback on other organizations in your country or identifying potential guest hosts for monthly trainings. Council members may also be intermittently asked to act as a reference for other GlobalGiving partners in your country or sector who have questions or require some assistance with their GlobalGiving account.
See a PDF with more information 
---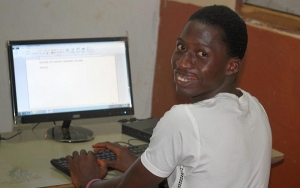 In July 2015, Sylvester Renner was featured as a guest blogger on PhilanthroPost®, the UniversalGiving blog.
The blog post includes a discussion of Develop Africa's relationship with UniversalGiving, a grant received in June and a description of the goals for the funds. In the blog post, Sylvester discusses plans to establish a "model pilot environment that will be an example throughout Africa"
See blog post and read more ...
---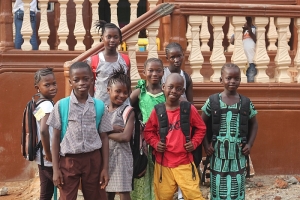 In June 2015, Sylvester's inspiring efforts in changing lives in Africa was recognized in a blog post on Great Positive's website.  Below is a quote from the blog post.  
Over 12,000 children who lost their primary care giver and over 3,000 children who lost both parents to Ebola. My vision is to provide an environment where the orphans can dream again. I believe that children are our future and that we can shape the future of our cities, nations and the world by how we raise our children. I believe that children have amazing potential - that is just waiting to be developed.  
See the Great Positive blog post... 
---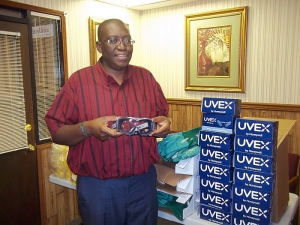 In a video, Dr. Brima Kargbo, the Chief Medical Officer of the Ministry of Health And Sanitation, Sierra Leone expresses his gratitude on behalf of the Ministry for the provision of 3 very large boxes of Personal Protective Equipment (PPE).  The medical items - including goggles, gloves, full body coveralls, nose / mouth masks and body bags - were provided in partnership with The Prince of Wales Alumni Association (GA Chapter, USA) and GlobalGiving.
Sylvester is specifically thanked by name for his leadership in facilitating the provision of these and other items- starting around 39 seconds into the video.
From 2014-2015, Develop Africa coordinated the provision of over 27,000 items of PPE - with a value of over USD 20,000.  Some items were provided through partnership with other organizations and some items were directly purchased by Develop Africa.
---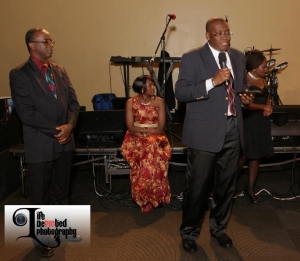 In May 2012, Sylvester received the HUMANITARIAN LEADERSHIP AWARD from National Organization of Sierra Leoneans in North America (NOSLINA) for his longstanding commitment and untiring efforts to helping and mentoring Sierra Leoneans
​
The NOSLINA Board of Directors has approved and authorized that honors, awards, and recognitions be bestowed on individuals/organizations for exemplary contributions to Sierra Leoneans in North America and in Sierra Leone.
The awards were conferred May 5, 2012, at 8:00 PM at the Loft Ballroom 9375 Washington Boulevard, Laurel, MD 20723, as part of the celebration of the 14th Anniversary of NOSLINA and the 51st Anniversary of Sierra Leone's Independence.
---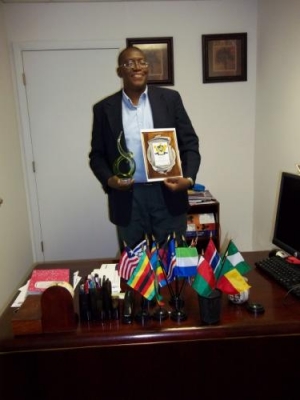 Sylvester Renner, the President of Develop Africa, received the African International Achievers [AfIA] 2012 Award. 
AfIA Awards are the largest Social Impact awards of, by and about Africa, highlighting the greatest Champions of Social Progress by nonprofits, socially conscious businesses, and individuals worldwide.
"These Awards focus on recognizing the most impactful and compelling achievements in the grassroots of Africa." "Changing the way the world looks at Africa, Changing the way we look at ourselves, People changing the face of Africa"
---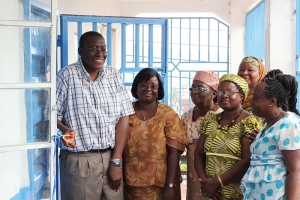 In July 2011, Sylvester's leadership was featured in a blog post on Green Marketing TV's website.
True social entrepreneurs find ways to empower people by giving them the tools to improve their own lives as they see fit. Sylvester Renner is just such a social entrepreneur with a big vision – to develop Africa!
The biggest success so far has been the implementation of the FAWE (Forum for African Women Educationalists) all-girls school computer lab in Freetown, Sierra Leone. Some of the funds from a 2010 Chase Community Giving grant were used to set up a fully-furnished, multimedia computer lab at the school.