In July 2011, Sylvester's leadership was featured in a blog post on Green Marketing TV's website.
True social entrepreneurs find ways to empower people by giving them the tools to improve their own lives as they see fit. Sylvester Renner is just such a social entrepreneur with a big vision – to develop Africa!
The biggest success so far has been the implementation of the FAWE (Forum for African Women Educationalists) all-girls school computer lab in Freetown, Sierra Leone. Some of the funds from a 2010 Chase Community Giving grant were used to set up a fully-furnished, multimedia computer lab at the school.
Female education in Africa desperately needs to be supported. Undoubtedly, healthy, well-educated and emancipated women will rear healthy, well educated and emancipated children. As Kofi Annan, former UN Secretary-General, said "to educate girls is to reduce poverty". In a paper on the Determinants of Poverty in Sierra Leone, it is stated "Female education in particular (both primary and secondary) is associated positively with the welfare of households…"  Supporting the education of girls and women with ventures such as this computer lab is crucial for development in Africa.
The education of girls is dear to heart of the Develop Africa team. We are working together with FAWE, Freetown Branch to help eliminate gender disparity in education and empower girls. This lab is in direct support of and in concert with the UN Millennium Development Goals (MDGs) – furthering the education of girls. These computers and the training are enhancing the quality of the education given to the girls enrolled at the school. Future possibilities for the lab include opening up the lab for use by other school groups and the general community.
We are excited about this opportunity, helping to transform their education through this pilot lab and look forward to setting up additional labs. We invite your support as we provide on-going computer training and launch additional labs.
See the article and read more here...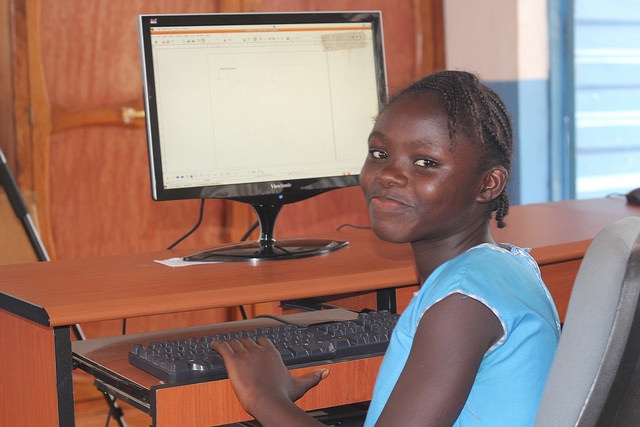 Watch a video from the school where a girl demonstrates what she has learned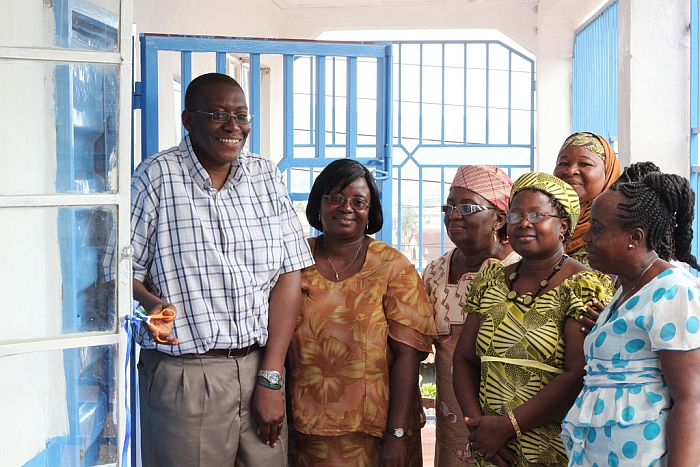 Sylvester cuts ribbon opening the computer lab - May 2011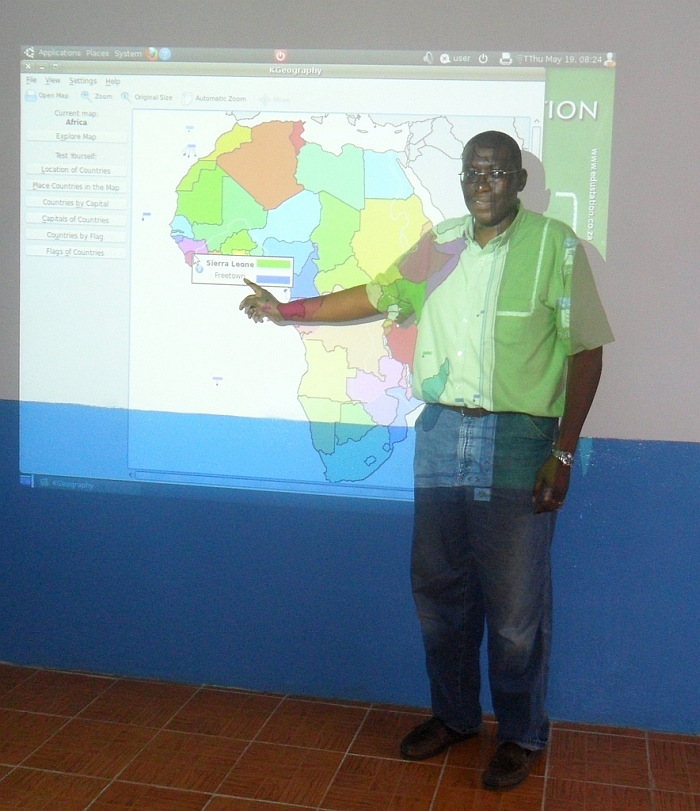 Sylvester standing in front of computer lab Sierra Leone - May 2011