Posted by
admin7
on
April 30, 2013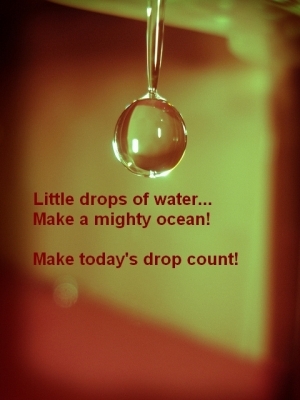 We all have dreams and goals.  Or at least we did at one time. 
However impossible and distant they may seem, one of the challenges that we face is time - and making the best use of our time as applied to our seemingly distant goals.  The best consistent approach that we can take is to make today and each day count.   This means that we should the best that we can with each day - with the awareness that it is cumulative effort of many days that will get us to our desired dream or destination.  Rome was not built in a day.  It takes the effort of many days to get there.
The song writer says:
Little drops of water,
little grains of sand,
make the mighty ocean
and the beauteous land.
Our efforts - though seemingly insignificant, over a period of time will have huge effect.  So with this in mind, keep marching and moving forward each day.  Keep confident that small actions count and are significant.  Despise not small beginnings and small efforts.  Your little drops will make a mighty ocean!
So make today and each day count!  Do your best to ensure that the drop that you invest into the lives of others and your future is significant, full and valuable!