Posted by
admin7
on
October 27, 2011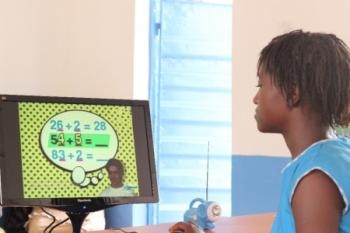 The computer may be an integral part in the homes, schools and companies of developed nations but for Africans it is a distant dream. This could also be one of the reasons why the youth in African countries are unable to compete in the global market. Those aspiring to get even basic computer training need to enroll and pay the computer schools which come at a predatory price. Add to this the economical and social barriers that put tremendous pressures on the youth and even this basic computer training becomes inaccessible especially considering the fact that almost ninety percent of the African population live on a hand to mouth existence.
Traditional schools and colleges in African nations have facilities of basic computer training but tragically these are outdated and not in a position to adequately prepare the graduates for competitive positions. Further nearly 50% of the population is teenagers under the age of 15, when it is the right time for them to be learning computers along with their other curriculum.
In this age of information, it is ironical that by the time the students graduate, many of them have never even used a computer let alone learning applications and programs. Inexperience and lack of basic computer training drastically narrows their job opportunities both at the home front as well as the international scene. Technology is the mainstay in private and public sector companies and jobs that pay decent salary demand computer proficiency. There are many job applications that accept electronic forms only but due to the lack of basic computer training as well as internet and email facilities, African youth are deprived of a decent chance even when it comes to entry level vacancies.
Government and some sections of the society have woken up to this fact and launched various computer educations program. One such is the IDCE – International Development of Computer Education program by KCG (Kyoto Computer Gakuin) through which they have donated over 2000 computers as well as instruction facilities in various nations of Africa. The donation is made through the respective governments who in turn have them distributed and maintained in various schools. Instructors are also arranged by this non-profit organization who selects teachers from the respective schools that have received the computers and train them basic computer training skills.
Another major step towards this has been the signing of MOU between South African Government and the International Computer Driving Licence of South Africa - ICDL SA. The DoC – Dept of Communications signed a MOU that would help deliver effective e-skill training, increasingly involve educational institutions as well as corporate partners to further IT development in Africa, and also encourage non-government institutions involved in basic computer training to provide training opportunities to the broader spectrum of youth.
In Nigeria, the Ministry of Education, in coordination with Intel, Microsoft and One laptop per child group are trying to provide basic computer training to 30 million school children including the rural areas. The rural areas of Africa where the mainstay of economy is agriculture is the hardest hit by the imbalance as they do not even have facilities for proper education let alone training in computers and technology.
This dream is indeed getting closer for African youth and children.  You can also read more about the computer training Develop Africa is providing at the FAWE school.
  
References