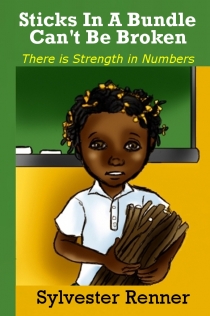 In Kenya, in between math and reading, school children learn about the endangered chimpanzees. The chimpanzees are endangered because of poachers, and the children are learning to work together to help keep them safe.
Dive into Kenyan culture as you gain an understanding of the dangers of poachers and the threat they pose. 
Encourage and inspire young children as they explore the idea that they really can make a difference. 
The children learn that there is a whole lot more that they can do together. When alone, one person cannot do much; united with others, there is strength and ability.  Nothing is impossible! 
There is strength in numbers, and when you join together, like sticks in a bundle, you are much stronger.  We can together take on any task that previously appeared to be impossible. No limits, no boundaries.  The sky is the limit!
What can you accomplish when you learn to work together?  The book illustrates the importance of unity in purpose and addressing problems by working together.